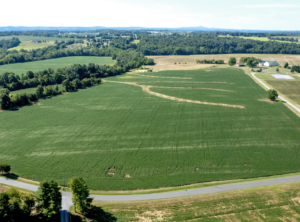 In the coming years, a pristine plot of land that runs along Stevens Road in Thurmont will be transformed into a sprawling agricultural and equestrian public park. The park's master plan shows equestrian areas like an obstacle course, several arenas and a horse care facility, as well as agricultural education offerings like outdoor classrooms, demonstration areas, observation decks and a variety of trails, pavilions, and interpretive signage.  The land and money to support the park were donated by Thurmont resident Richard Kanode and the Community Foundation was excited to help him turn his charitable dream into a reality.
"Frederick County recognizes the important and valuable legacy that Mr. Kanode has provided to our citizens," said Frederick County Division of Parks and Recreation Deputy Director Bob Hicks. "His generous and selfless donation of this property, as a future agricultural and equestrian educational center, will be utilized and enjoyed for generations to come."
Mr. Kanode passed away in 2020 at the age of 92, but in the years leading up to his passing, he was fast at work putting the pieces in place to turn his beautiful farm into a public park that would serve to connect people with nature and to provide individuals from all walks of life with access to outdoor education and programming.
Born in Catonsville, Mr. Kanode was an Army veteran and later owned Country Homes, Ltd., a company that built housing communities and some high-rise buildings in and around Baltimore County. He was a long-time aviator and member of numerous aviation associations and flying clubs; and he raced motorcycles and Formula Cars. He was proud of the farm he owned and operated in Thurmont and wanted to share its riches with others.
The Community Foundation regularly works with donors who have non-cash gifts to donate such as stocks, IRAs, antiques, cryptocurrency, and land, and who have philanthropic wishes that might be somewhat involved. Mr. Kanode's vision called for some creative thinking and partnership building, and in the end, the Community Foundation helped him build a plan that accommodated his wishes for the use of the land and money, while also ensuring he received the appropriate tax benefits and use of the property by he and his family until the estate was settled.
In 2017, Mr. Kanode provided for the county to receive the land at his demise and at the same time created The Richard W. Kanode Farm Park Fund at the Community Foundation – a $1 million endowed fund that will be used to support maintenance and operation of the park.
In February the preliminary park master plan was completed, and that plan is now being reviewed by the Parks and Recreation Commission, the Planning Commission, and the County Council, with public input being accepted through summer. The design of phase 1 is scheduled to begin in the fall.
Mr. Kanode's park will not be complete for some time, but we are all fortunate that he had the vision and foresight not only to imagine a beautiful space that is available to all and that encourages hands-on learning and understanding of the outdoors, but also to create a Community Foundation fund that will help the county support park operation and maintenance costs.
*Published in The Frederick News-Post on 4/24/2023.