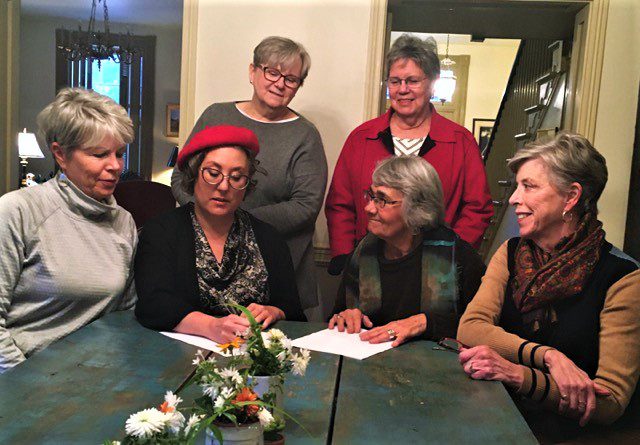 To say Claire McCardell was a trailblazer would be an understatement. When many women stayed home, McCardell worked a job; when most looked to Paris for fashion trends, she created her own; when a clothing brand wanted to use her style, she insisted the label include her name.
Credited with inventing American sportswear, the designs McCardell created in the 1930s, 40s and 50s continue to influence fashion today. In 1999, Life named McCardell one of the 100 most influential Americans of the 20th century. The Community Foundation is proud to have played a role in keeping the spirit of this amazing woman alive right here in Frederick.
McCardell was born and raised in Frederick, and after her untimely death at the age of 52, she was buried in the family plot at Mount Olivet Cemetery. But during the years in between, she was busy traveling the world, influencing fashion, and making a statement about clothing that is both sensible and stylish.
In 2019, Linda Moran, chair of the Frederick Art Club's Claire McCardell Project Steering Committee, worked with the Community Foundation to create The Claire McCardell Project Fund. The purpose of the fund was "to support the Frederick Art Club to create a public representation of Claire McCardell, world renowned fashion designer, in the form of a bronze statue and ceramic contextual plaques." In addition to a larger-than-life bronze sculpture of McCardell, the project included an exhibit that tells the story of McCardell's extraordinary career and an elegant garden.
"One of the exciting things was everyone we approached wanted to be a part of it," Moran said. "We had great support and we also have people who were really eager to share in it and be a part of it, not only with their funds, but with donating their time to be a part of it. It was very exciting to have something that was such a feel-good community effort."
Many people are familiar with the Community Foundation's permanent funds – where the original gift is invested and the investment return supports the charitable purpose defined by the donor. The Claire McCardell Project Fund was a pass through fund – meaning all the gifts, as well as the investment return, are used for the fund's charitable intent. While a pass through fund does not create the legacy of giving in perpetuity that an endowed fund does, it does serve an important role in helping an organization complete a project, often of great benefit to the community.
A pass through fund also offers the organizer access to the Community Foundation's expertise gained over decades of managing funds. While the organizer focuses on fundraising and project management, the Community Foundation handles the processing and tracking of incoming gifts and outgoing expenditures.
Moran said that collaborating with the Community Foundation made an ambitious project more manageable. The sculpture, located at the east end of Carroll Creek Linear Park, was unveiled this past October.
"We were so grateful to learn that the Community Foundation had a pass through fund and they could manage the acceptance of money so people could make a tax free donation, and that they would then track all of that and take care of paying all the bills," Moran said. "I cannot say enough for how responsive the Community Foundation was."