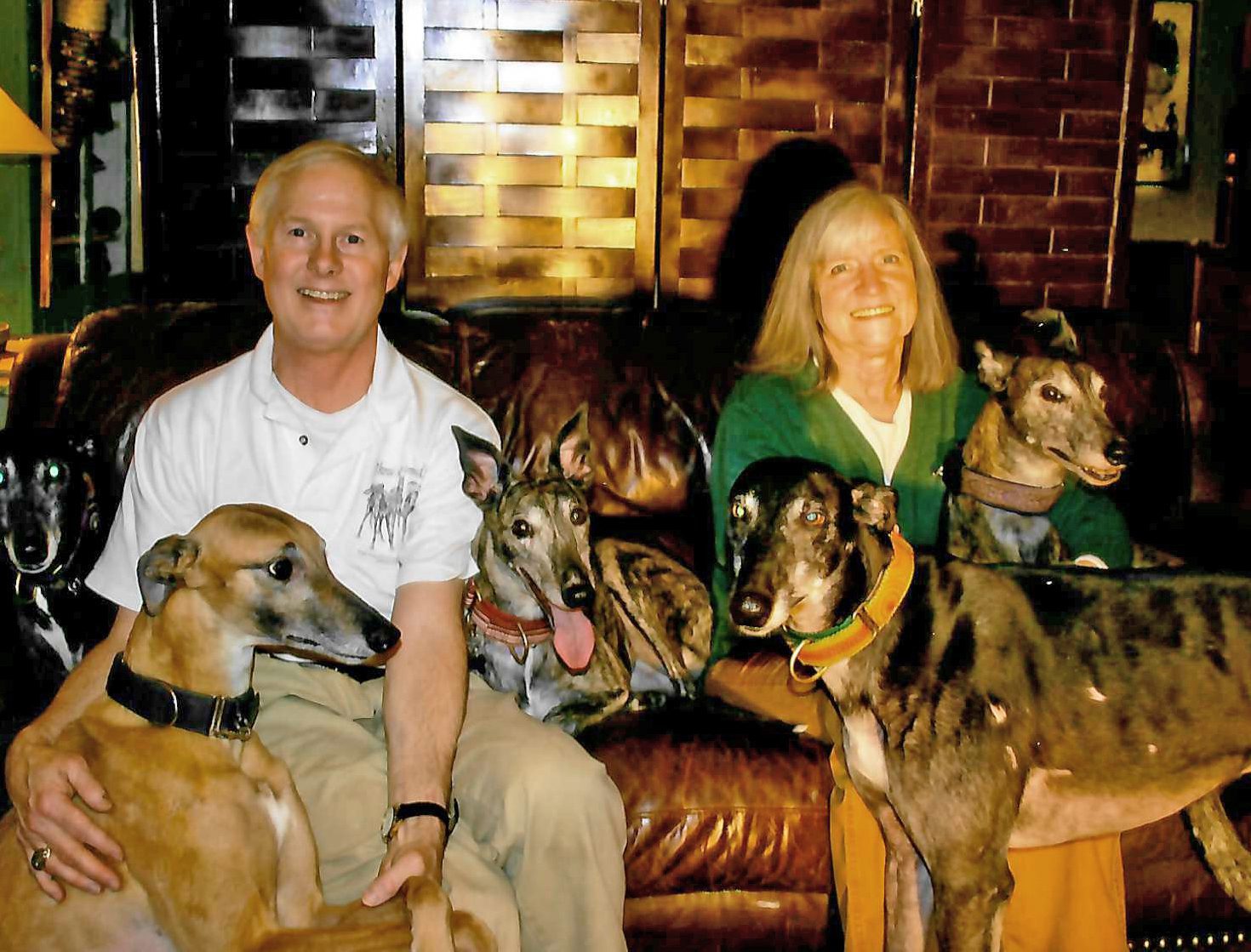 While Frederick County has thousands of perfectly happy and very spoiled pets, there are also many animals in need – in need of homes, in need of spaying, in need of medical care. Fortunately, Frederick County is also home to generous donors who have made it their mission to make sure animals are cared for and healthy, for now and in the future.
For many years, Hettie and William "Bill" Ballweber operated a rescue for greyhound dogs. They took dogs in from around the country, sometimes a dozen or more at a time in their Boonsboro home and worked to find them suitable and loving families.
"My husband Bill was a wonderful caring advocate for our rescue organization," Hettie said. "He was tireless and patient when it came to working with the greyhounds and never complained about how much work it took to find good homes for the dogs."
In 2020, Hettie started The William and Hettie Ballweber Fund with the Community Foundation to honor her late husband's life's work of rescuing dogs, animal advocacy and compassionate pet care.
"When Bill died, I wanted to memorialize his work and make it possible for others to carry on," Hettie said. "I felt that setting up the fund was the best way to honor Bill's legacy."
Also committed to ensuring animals are cared for, Robert and Carolyn Moroney established The Feline Welfare Fund. The fund supports spay/neuter/vaccination programs, responsible placement of adoptable cats in forever homes, and financial assistance for sheltering and fostering initiatives.
"Local nonprofits that foster the health and welfare of the feral cat population are doing work that goes mostly unnoticed, but it is still very important to keep things in balance, mitigating both uncontrolled growth of the feral cat population and the spread of common feline diseases, along with the related suffering, all of which can quickly spread more widely in our community if not monitored and controlled," Bob Moroney said. "We're just trying to do what we can, while we can, hoping it can make a difference."
Ruth Converse's 2007 obituary mentions that she was great-great-aunt to the family pet, a cat named Alex McDonald. Through her estate provisions, Ruth established The Converse Family Endowment Fund that has three aims, one of which is to support the Frederick County Humane Society for the spaying and medical treatment of adoptable animals for low-income families who would provide good homes for these animals.
"The Converse [Family Endowment] Fund has made it possible for many individuals and families to experience the joy of a cat or dog," said Frederick County Humane Society Director Connie Graf. "It is often a found animal, or a recently adopted one that has an unexpected medical condition. The help of this program has allowed them to get the veterinary care needed."
These are just a few of the funds that support animal well-being initiatives throughout the county. The Community Foundation is proud to work with generous donors who are committed to making a difference, and the nonprofits that provide care and services to these animals.
Published in The Frederick News-Post on Aug. 29, 2022