Each year, The Community Foundation of Frederick County recognizes people who are dedicated to their community and are selfless in their contributions of time, energy, and talents. They are Frederick County residents who want to make a difference in the lives of others. Do you know someone who fits this description? We are pleased to announce that the Community Foundation is accepting nominations for the 2020 Wertheimer Fellows for Excellence in Volunteerism and Youth in Action Awards through May 31, 2020.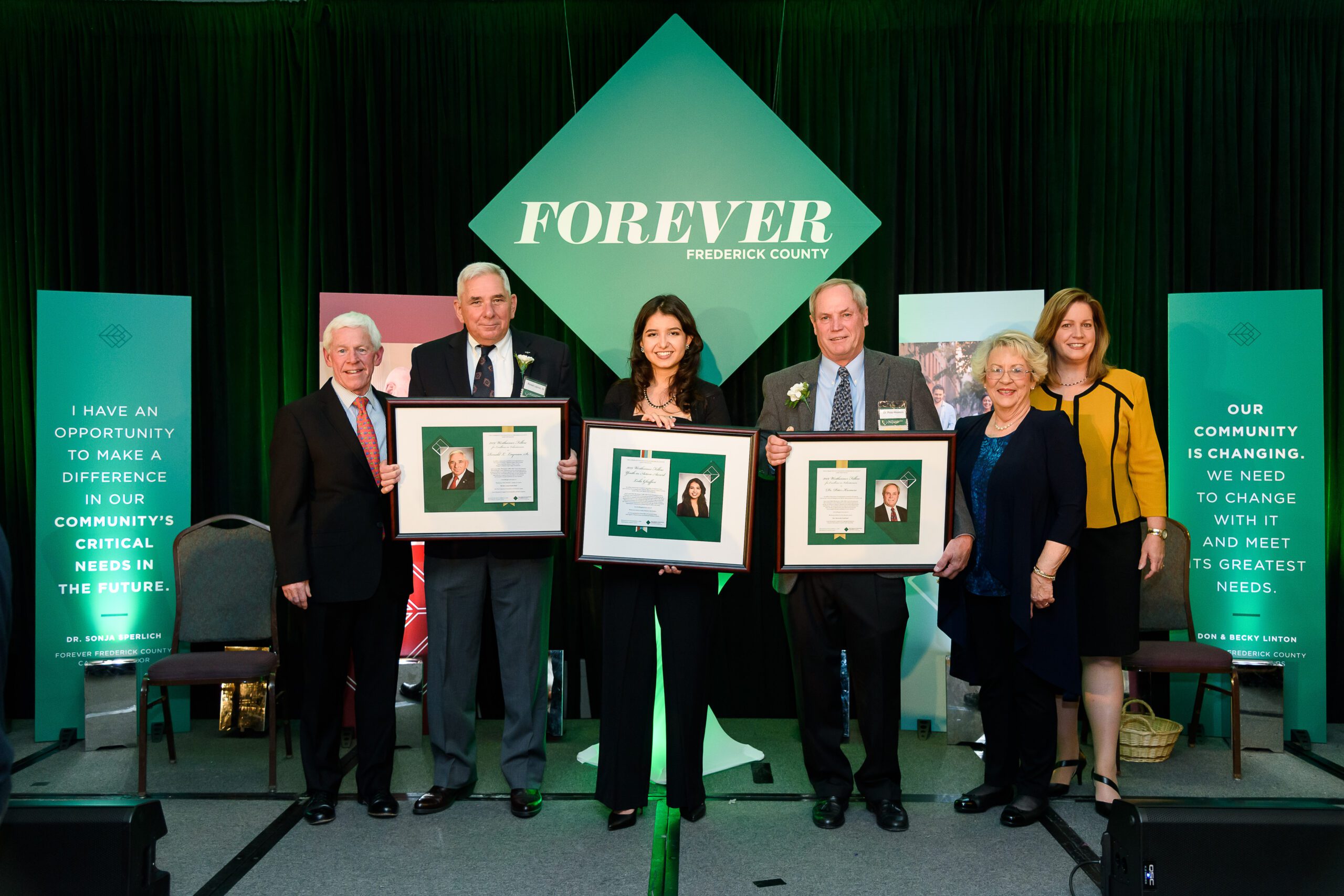 The Wertheimer Fellows for Excellence in Volunteerism Awards Program is now in its 18th year and honors the legacy of the late Janis Miller Wertheimer, a well-known Frederick businesswoman and prolific volunteer. The program is made possible through The Janis Miller Wertheimer Endowment Fund, a component fund of the Community Foundation. The Wertheimer Youth in Action Award is now in its ninth year.
The Community Foundation has recognized outstanding members of our community over the years who are difference makers and are dedicated to the people and causes they serve.
Dr. Peter Kremers received a 2019 Wertheimer Fellow for Excellence in Volunteerism Award for his inspirational work in helping to improve his community. Dr. Kremers is the man behind Color on the Creek and Sailing into the Winter Solstice, which has resulted in beautiful blooming water plants that line Carroll Creek and the elaborately decorated and lighted boats in the winter months. Dr. Kremers was frustrated by the unattractive algae growth in the water along Carroll Creek and researched ways to limit its growth. He worked with the City of Frederick to obtain necessary approvals and set up a test garden in 2012. With its success, he established the nonprofit Color on the Creek to raise funds to support the project and in 2013, he worked with a group of volunteers to install hundreds of metal stands holding more than 1,000 perennial and tropical plants. The collection has grown over the years, and now Frederick County residents and thousands of tourists each year can enjoy the spectacular color provided by the plants and the clean water surrounding them.
Turning his attention to the winter months, Dr. Kremers started building decorative boats, sponsored by local businesses, to add color along Carroll Creek. Each year, the public is encouraged to vote for their favorite boat and raise money for community nonprofits. With his award, Dr. Kremers established The Color on the Creek Fund with the Community Foundation to support the ongoing development of the water garden and boat display.
Ronald Layman, Sr. received a 2019 Wertheimer Fellow for Excellence in Volunteerism Award for his tireless work, commitment, and passion for the Boy Scout program. He joined Cub Scouts at age ten and advanced through the program to become an Eagle Scout. He has served as Scoutmaster for Troop 274 and led this Troop for 34 years. He has mentored more than 100 young men in Frederick County, including his two sons, to become Eagle Scouts and has positively influenced countless others. Mr. Layman has served on several Boy Scout committees and has been the visionary, administrator, and caretaker of the 210-acre Walkersville watershed property which has been used to host thousands of Boy and Girl Scouts and other youth organizations for events and outdoor adventures. Mr. Layman's other volunteer work has included serving on memorial committees and he has been design chairman for several veteran monuments in Memorial Park in downtown Frederick. He has also been a member of the Shangri-La Marine Corps League Detachment for more than 50 years. With his award, Mr. Layman established The Ron Layman Family Fund to provide grants to a variety of local nonprofits.
Recognized for her extensive volunteer work serving her community, Leila Ghaffari received a 2019 Wertheimer Youth in Action Award. She participated in United Way's Summer Serve Program and Leadership Week, an intense program about Frederick County government, history, the business community, education system, and nonprofits. Through her experience, she accepted a volunteer intern position with the Office of the Mayor, City of Frederick. In this role, she focused on making a difference in combating sexual harassment, increasing young adult participation in local government, and bringing more art to Frederick. Leila has been recognized for her "intrinsic motivation to help" and has been described as dedicated, focused, kind, and an incredible asset to the Frederick County community. With her award, Leila provided a grant to United Way of Frederick County, with support to Heartly House, and a grant to Frederick Children's Chorus.
If you know someone like Dr. Peter Kremers, Ronald Layman, or Leila Ghaffari who fits the criteria for this award, the online nomination forms can be found at www.FrederickCountyGives.org/WertheimerAwards. Nominations must be submitted by 11:59 p.m. on May 31, 2020. No paper applications will be accepted.
The honorees will be recognized at the Community Foundation's Annual Report to the Community in November 2020. Wertheimer Fellows are awarded $25,000 to establish or add to a permanent fund with the Community Foundation for the nonprofit or charitable endeavor of their choice. The Wertheimer Youth in Action honoree will receive a $2,000 grant to support a Frederick County nonprofit organization of their choice. We look forward to recognizing our next group of outstanding volunteers this fall.