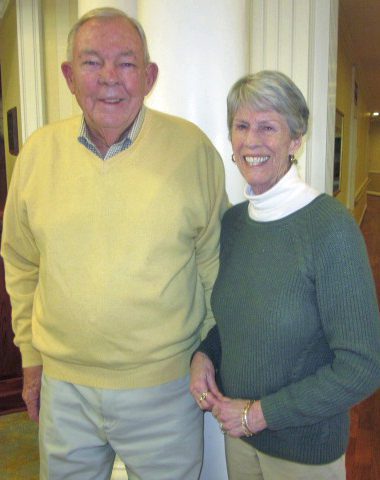 After Charles Worthington "Chipper" Hoff IV became president of Farmers and Mechanics Bank in 1977, he quickly became involved in some of the community's largest and most active organizations. Owing in part to his enthusiasm for and involvement in his adopted hometown of Frederick, Chipper was also one of the first people to whom Don Linton and the late Charlie Main reached out to in 1986 when they decided to try to form a community foundation here in Frederick County.
The consultant who addressed the group said it would take a minimum of $1 million to start a community foundation, recalls Chipper, thinking that would be enough to deter the group. Undaunted, they created the entity and began to fundraise. By the following year, they had amassed more than $500,000 in gifts and pledges; less than a year later, the group reached its goal of $1 million.
For the next 30 years, Chipper and his wife Peggy have been active volunteers and donors at the Community Foundation. In 2006, they created The Charles W. Hoff, III and Margaret O. Hoff Family Fund. The fund was created as a "donor-advised" fund, meaning that Chipper and Peggy recommend to the board of trustees how the annual distribution is used for grantmaking.
However, in their fund agreement, Chipper and Peggy included language that allows the Community Foundation unrestricted access to its annual distribution after their lifetimes. This step ensures that proceeds from the fund will be available to address Frederick County's most pressing future needs—especially those of which we are currently unaware.
Based on this concept of unrestricted giving, the Community Foundation launched a campaign in 2019 called Forever Frederick County. Like Chipper and Peggy Hoff, donors to this campaign have given the Community Foundation's board of trustees the ability to direct the distributions from their funds toward Frederick County's areas of greatest need.
"Frederick County was a great place to raise our family," says Chipper. "Peggy and I are pleased to know that the fund we created at the Community Foundation will help strengthen and enhance the quality of life there, now and for years to come."