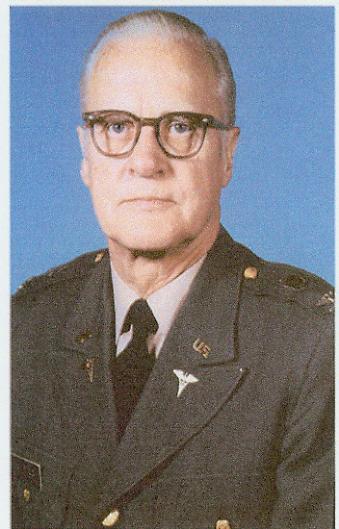 Dan Crozier was passionate about music and promoting music education. His legacy lives permanently with The Community Foundation of Frederick County, and thanks to his generosity and vision, countless Frederick County residents will benefit from a better appreciation, understanding, and enjoyment of all music types for generations to come.
Dr. Crozier spent his life in service to others, both as a military officer and a medical doctor. He had a lengthy military career, retiring as a colonel, and served in both World War II and the Korean War. He later assumed command of the U.S. Army Medical Unit at Fort Detrick, which is now known as the U.S. Army Medical Research Institute of Infectious Diseases (USAMRID). During his retirement, Dr. Crozier continued to be actively involved in the community and served as director of the Whittaker Corporation Indonesian Hospital Project, was a member of the American Red Cross, and served on the Service to Military Families Committee at Fort Detrick.
Dr. Crozier passed away in 1994. He set up a trust in his will to promote music appreciation throughout Frederick County. For many years, the trust awarded grants and scholarships to create awareness about music in the Frederick County community. In 2004, The Dan Crozier Music Trust Fund was established with the Community Foundation with proceeds from The Dan Crozier Music Trust to continue Dr. Crozier's legacy.
The Dan Crozier Music Trust Fund's purpose is to promote music appreciation by providing grants to Frederick County musical organizations for sheet music, instruments, and other necessary supplies and materials and to provide support for students pursuing formal music education and training. The fund also helps to underwrite the costs of presenting and expanding the number of band and musical concerts in Frederick County.
To date, the fund has distributed nearly $78,000 in total grants to support these purposes. Providing broad impact to promote music, the fund has supported organizations such as Frederick Children's Chorus for its spring concert and summer camp sheet music purchases. Frederick County Public Schools has received support for its elementary instrumental music library and pianos for Brunswick High School. Frederick Regional Youth Orchestra has received grants for jazz music purchases, and Brunswick High School Drama Boosters has received support for its spring musical.
Because of Dr. Crozier's generosity, Frederick County citizens have and will continue to benefit from his fund's support. Dr. Crozier's love of music and passion for music education, especially with younger generations, will be carried out in perpetuity through his fund with the Community Foundation, and many more students will benefit from musical education support.