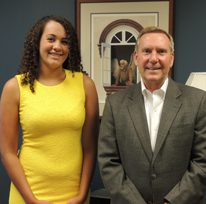 Part of the Community Foundation's mission is to "connect people who care with causes that matter." In 2013, two anonymous donors created The Saint Peter Claver Scholarship Fund to honor this saint while awarding scholarships to students who fit the essence of his life work. These donors, through the fund, are also caring for people as Saint Peter Claver did centuries ago.
Saint Peter Claver shares similarities with Dr. Martin Luther King Jr., whose life and work in eradicating segregation and racism in our country is honored through today's national holiday. He spent his life fighting for justice and equality for Black people. St. Peter Claver lived in a very different time and had to fight different battles, but he too was committed to improving the lives of Black people who were treated unjustly and inhumanely.
Both King and Claver were ordained ministers – King an American Baptist minister who pastored in the late 1950s at a church in Montgomery, Alabama; and Claver, a Spanish Jesuit priest and missionary, who was ordained in 1615. Claver traveled to the New World, settling in Cartagena (now in Colombia) where the slave trade was well established. He devoted himself to caring for enslaved people – providing medicine, food, comfort, and spiritual guidance.
Both men advocated for a population of people who were mistreated and misunderstood because of the color of their skin. Claver spent decades among enslaved people in an effort to provide support and to advocate for better living conditions. He would eventually become the patron saint of slaves and persons of African American heritage. King led the civil rights movement in the United States from the mid-1950s until his assassination in 1968. He promoted non-violent solutions and led several high-profile, peaceful protests and made inspirational speeches that helped push a country forward.
Saint Peter Claver and Dr. King cared deeply for people and shared a passion for their causes, just as the donors who founded the fund are passionate about helping others. The Saint Peter Claver Scholarship Fund's purpose is to help under-served and under-represented students attend a two- or four-year college, and by doing this, honor the Saint, just as we honor Martin Luther King Jr. annually for his work. The criterion for the scholarship includes an essay that describes the impact Saint Peter Claver has had on the applicant's life. Since 2016, the fund has disbursed nearly $11,000 to eight students.
Last year, the Community Foundation distributed more than $1.8 million in scholarships to 334 students with the help of generous donors who care and who believe that education is a vital tool in a person's success. Students interested in applying for scholarships for the 2022-2023 academic year, including The Saint Peter Claver Scholarship or any of the Community Foundation's other 270 plus scholarships should visit www.ScholarshipsFrederickCounty.com. The application period is open for the month of March.